Finishing Challenge
(Free)
This finishing exercise helps to develop shooting technique, finishing skills and practising basic combinations in front of the box.
Category:
Soccer Drills - Soccer Finishing Drills
Age:
10 - 20+
Difficulty:
3
Space:
Quarter
Keeper:
1,2,3
Players:
3 - 18
Individual+Team
Video
Organisation
Players work in a group of three.
Cones are placed to mark the players' starting positions.
5 mannequins or poles are also placed in front of the penalty box as shown. Distances of the cones and mannequins must be considered and created age appropriate.
Players change their positions after the exercises.
See In
Download In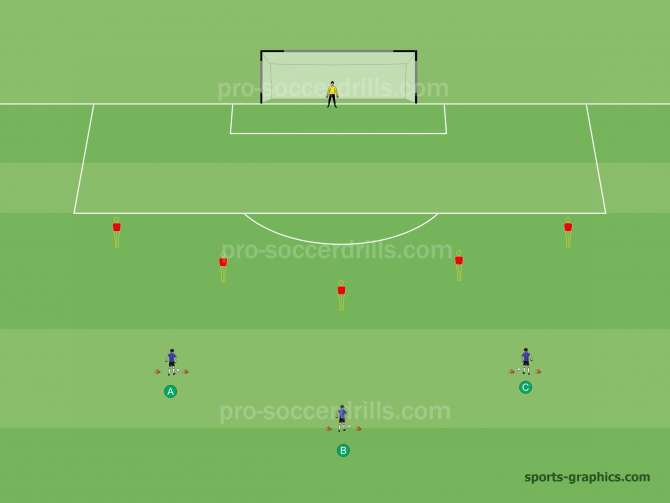 Set Up
See In
Download In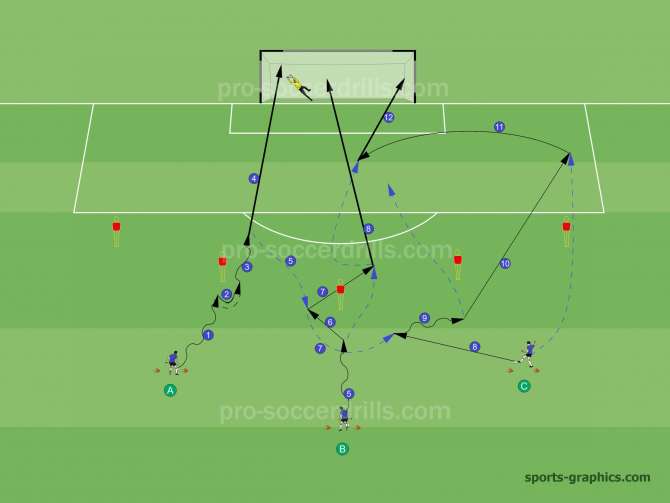 Player A begins the soccer drill by dribbling the ball towards the mannequin in frontof him. He performs a quick feint and shoots on goal. After the shooting, Player B dribbles and performs a quick one-two pass with the help of Player A. At the end of this action Player B shoots on goal. Player C passes the ball to the approaching Player A, who dribbles the ball to open the passing channel and performs a penetrating pass in front of Player C. Player C curves the ball inside and Player A and B try to score in the box directly.
Coaching points
Vary the feints in front of the opponent
Hit the goal and try to score from every shots
Supporting movements after the shots
Timing of the runs behind the defending line
Quality, pace and angle of the penetrating pass
Timing of the runs into the box
Take the soccer finishing drill competitive
Take care of extra balls
Set up
Number of Players: 3 - 18
Repetitions: 6 - 12
Series: 2 - 4
Time: 10 - 30

Equipment
Small Cones: 6
Mannequins: 5
Free Trial
GET YOUR FREE 14 - DAYS TRIAL NOW! INCLUDING:
700+ Soccer Drills

3000+ Variations

More than 300 HD videos

OR LOGIN WITH YOUR ACCOUNT