Feinting - Receiving Technique and Combinations
(Free)
The aim of this soccer dribbling drill is to develop dribbling and feinting skills. This exercise also helps to practise quick combinations of two players.
Category:
Soccer Drills - Soccer Dribbling Drills
Age:
- 9 - 17
Difficulty:
3
Space:
Reduced
Keeper:
0
Players:
8
Team
Video
Organisation
Eight players are involved in this soccer dribbling exercise. Players are arranged as shown and they change their positions continuously in alphabetical order. The first players in each positions hold a ball.
The variations of this exercise are performed to both directions.
Description and Graphics
Players begin the task by dribbling inside towards the mannequine and they perform a determined fake in front of it. All players turn 90 degrees after the feint and pass the ball to the next player between the sticks. Variations, feints and combinations can be changed and varied.
See In
Download In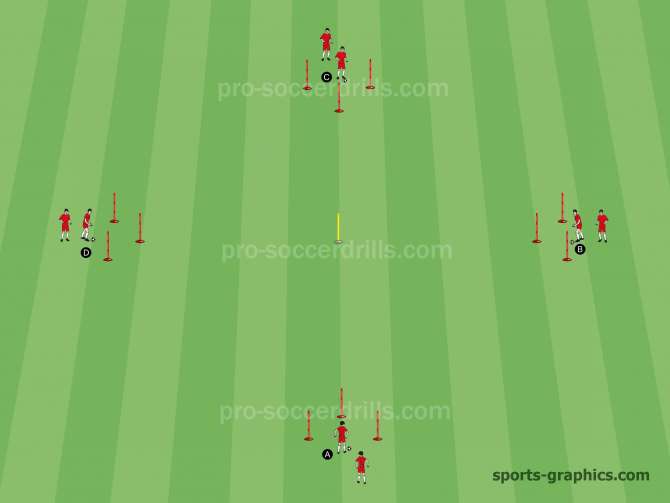 Set Up
See In
Download In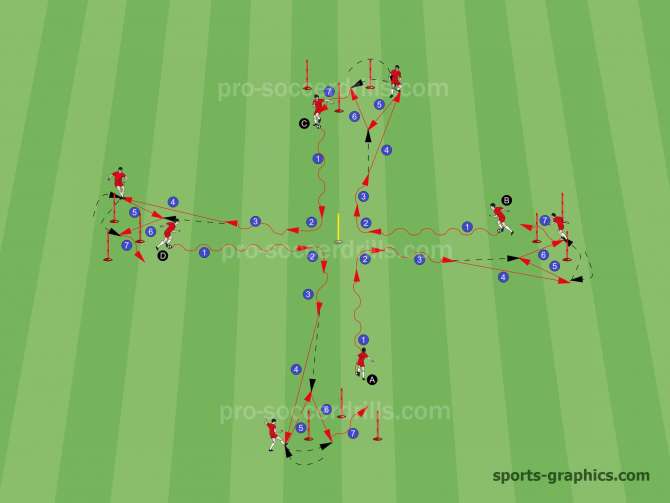 Variation 1: Players perform different and determined techniques of feints and they receive the ball between the sticks with different techniques. (inside of the foot, outside of the foot, behind the heel, etc.)
Coaching points
Technique is the first
Begin the soccer dribbling exercise at a moderate intensity
Raise the intensity gradually
Heads up from the ball
Use both feet
Use all surface of the feet
Perform the exercises to both directions
Take care of extra balls
Set up
Number of Players: 8
Time: 10 - 20
Intensity: 40-70 %
Free Trial
GET YOUR FREE 14 - DAYS TRIAL NOW! INCLUDING:
700+ Soccer Drills

3000+ Variations

More than 300 HD videos

OR LOGIN WITH YOUR ACCOUNT